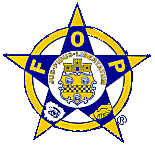 Welcome to the FOP Arrowhead Lodge #126
The membership of FOP Lodge #126 is comprised of law enforcement officers from the Genesee County, Michigan area and Associate Members from the community.
The Grand Lodge is offering Lifetime and Retired FOP Membership cards. The cost is $5, and have to be ordered through your respective Lodge Secretary (Ron Rutherford). Click HERE for the application form. After completing the form, email it to Ron's attention at the Lodge email address FOP Arrowhead Lodge
Link to FOP 126 on Facebook
(See Members News Below)
CHECK OUT ALL THE NEW EVENTS FOR 2014 AT THE LODGE HALL
LOTS OF FOOD AND FUN FOR EVERYONE!!! CLICK ON THE CALENDAR OF EVENTS LINKS.
Member News
Congratulations to Ron Rutherford for being the 2014 FOP State Lodge of Michigan's Herb Adams Award recipient! Ron was this year's only recipient of the award. The Herb Adams Award is presented to members who have demonstrated exceptional support and dedication to their local lodge. Thanks for all the work you've done Ron!
Member Obituary